Home
Development docs Abandoning the one man show
23-11-2017 by Coen (Qumatah)
While working on Late Legends, I realized that a system ready for role-playing has to include a lot of things. If I want to ever develop a cohesive system with all these features, it would be a lot of work. Moreover, I have the never-ending desire to keep things easy to play, customizable and "balanced". I say "balanced" because true balance is impossible (or really boring). The important thing is that the system allows different types of play, without having the players' choices be influenced by an imbalance.
Late Legends was simply too big for me to develop on my own. Around the end of 2016, I had small discussions with the players of Late Legends on topics that I would like to address. I want to improve Late Legends to an expert level, but do not want to make large expenses. I want to keep Late Legends my own project, free of charge for everyone. In August of 2017, I made the decision to ask a select few of my friends to focus on a specific part of Late Legends. Some were experienced with table-top games, and some only starting to know Late Legends. This was striking a good balance since we could create, test and innovate with limited time. I dubbed the group: the Chiefs.
Creating the chiefs had two major advantages:
I was able to take a step back from the development and focus on the bigger picture for Late Legends.
I always had someone to discuss a certain topic with.
While I'm still the main man for everything Late Legends, I would like to introduce the Chiefs (updated 17-05-2020).
~ Jaimy, Chief of Storytelling
~ Martijn, Chief of Equipment
~ Kyou, Chief of Artwork
"When I made my real life character, I picked Soul of Balance as my class. Now I spend my days balancing classes to make sure this game stays playable."~ Censa, Chief of Classes
Nerfseals & Banhammers
To keep the development going, all chiefs try to join a weekly discussion web call, called Nerfseals. We also have special meetings where we take certain topics to discuss thoroughly, called Banhammers. Banhammer-sessions are also used for special one-shot stories or random test-plays.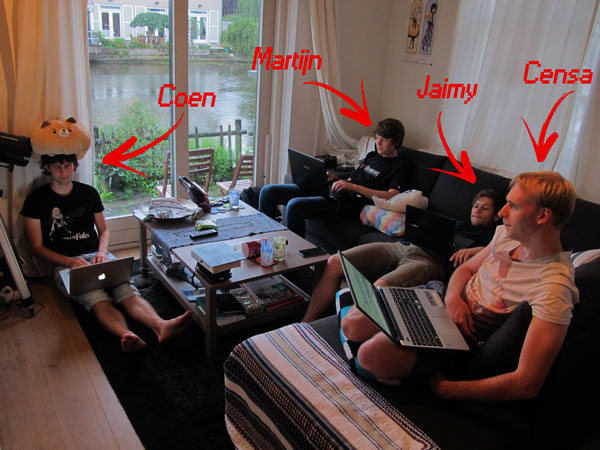 Us at a typical Banhammer session.